Issued: 0530hrs Thursday 2nd July 2020
Duty forecaster: Alexi Venerus

Staying unsettled on Thursday for northern and central Europe. Drier and sunnier across the Mediterranean. By Friday, high pressure from the Azores will begin to influence drier and sunnier conditions across central Europe. Still unsettled, however, over Scadinavia.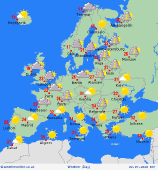 Thursday
Largely dry and fine with sunshine across the Mediterranean on Thursay, however, cloudier skies are expected across the far north of Spain with some scattered showers developing. Largely dry and sunny across Portugal. These showers could reach some of the western most Balearic Isles but it should stay largely dry. Eastern coasts of Italy may see some showers developing as well as mainland Greece but again largely dry for these countries. Sunshine and dry conditions for Turkey and the Turkish resorts.
Rather cloudy across central Europe with showers turning into longer spells of rain. Rain heavy across the far north of Italy, Austria and Slovenia in the afternoon in particular. Lighter but persistent spells of rain expected across northern France and Germany, the Low Countries as well as southern Poland with northern parts of Poland seeing drier and brighter conditions.
Low pressure over Scandinavia will bring rain to western coasts of Norway as well as across southern regions of Norway, Sweden and Finland. Denmark looks to miss most of the rain with dry and fine conditions here.
Friday
HIgh pressure builds in more across western Med on Friday and will bring mostly dry and sunny conditions to Spain, Portugal as well as the Balearic Islands, Sardinia and Sicily. Italy, however, will see cloudier skies and scattered showers developing, some heavy and thundery along eastern coasts. Greece continues to look rather unsettled with showery rain, with more prolonged spells of rain across northern parts. Largely dry but some cloud across Turkey.
As high pressure gradually builds any showers across central Europe will gradually die out, particularly over more western European countries, as drier and brighter conditions develop. Exceptions lie across northern and central Italy where showery rain, heavy towards the north, will continue to fall as well as across Croatia, Slovenia and Hungary. Poland, more so eastern parts, as well as the Czech Republic will also hold on to cloudier skies and some patchy rain.
Wet across much of Norway, with exception to the more northern regions where it looks to be largely dry. Central and northern regions of Sweden and Finland too look wet as spells of rain affect these areas. Dry and fine across Denmark through the morning before the cloud builds and rain moves into western regions by the afternoon. Largely dry across the Baltic States.