Issued: 0530hrs Saturday 19th October 2019
Duty forecaster: Simon Keeling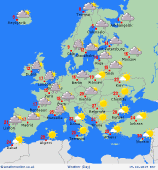 Wet in central Europe, colder for the west


Saturday
Heavy outbreaks of rain for Portugal and northwestern Spain. Dry and bright for southeastern Spain and the Balearic Islands. Isolated, sometimes heavy, showers continue for northern Italy, eastern Greece and coastal regions of Turkey. Elsewhere, its dry, mostly bright and warm.
Continuing unsettled across France, the Low Countries and northern and western parts of Germany on Saturday with outbreaks of rain and heavy showers at times. Heavy showers affecting Switzerland too. Drier but cloudy for Austria, Poland and the Czech Republic. Dry and brighter for Slovakia and Hungary.
Another wet and breezy day for Denmark with rain edging into southern parts of Norway and Sweden later. Isolated showers for the Baltic States while a band of heavy rain edges through southern and central Finland. Dry and bright for northern parts of Finland, Sweden and Norway while central parts of Sweden and Norway see outbreaks of heavy rain and snow.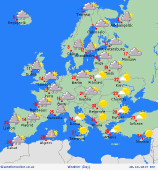 Sunday
A cold day in Spain with rain in central and northern areas. Heavy showers affecting Portugal. Further showers may trouble the Balearics. Showers too in northern Italy, some of them heavy, but drier in central and southern Italy with good sunshine here. Fine for Greece with good sunny spells, whilst showers affect eastern Turkey and Cyprus.
France will have a cold, wet day. Some heavy periods of rain and a risk of thunderstorms too. Rainin the Low Countries, some heavy and this rain affects northern Germany as well. Poland should be dry with sunny spells. Austria and Hungary will be dry, again with sunshine here. Showers and rain in Switzerland.
Denmark should be dry with more sunshine to come. The Baltic States will have good spells of sunshine, although some rain is expected in Finland. Norway is generally dry with sunny spells throughout, just a few showers in central areas.